SIDELIGHT TRANSOM FOR STEEL DOOR HUSKY ANTHRACITE-WHITE 11-13/16" X 81-1/2"
Description
Technical Information
Shipping & Returns
Reviews
Make your massive metal front door visually lighter by adding sidelights and transom!
Sidelights and transom with frosted glass harmoniously complement the door.
The additional element for the Husky metal door (color anthracite/white, size 11-13/16" x 81-1/2") can be used as a sidelight and as transom.
The extensive glazing area makes the door visually lighter and supports its style.
The sidelight's glass visually matches the glass in the door slab, thus forming a unified entry group.
The frosted glass gently diffuses light. From the outside you can only see the blurry outlines of objects.
Thanks to the wide range of variations, you can find a door for almost any door opening.
Minimum width of sidelight/transome is 11-13/16'' (300 mm).
Safety: The glass is tempered on both sides and is very strong.
Available front door configurations
with and without sidelight and transom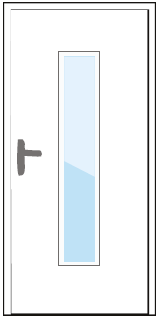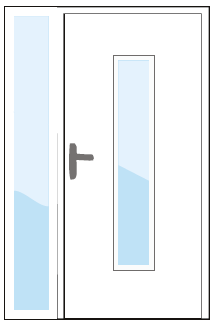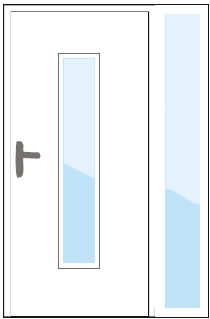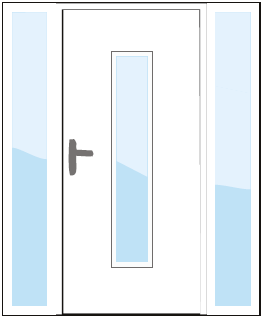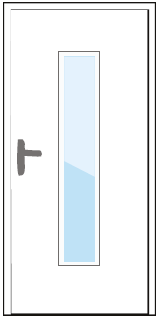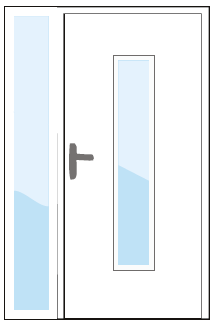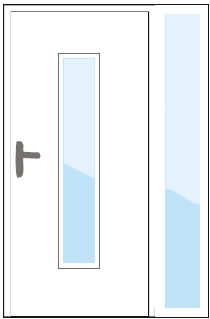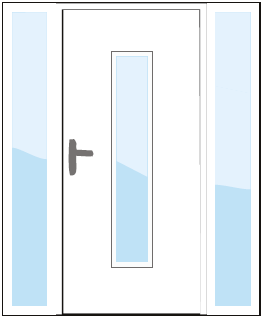 Glass type: Frosted
Glass safety: Tempered
Width (min): 11-13/16'' (300mm)
Height: 81-1/2"
Exterior finish: Brown (RAL 8019) with moire effect. Extra durable finish with reliable protection from UV rays
Shipping and order confirmations
Upon placing the order, you will receive a confirmation by e-mail that your order has been received. Production lead time is around 14 business days. ETA will be provided in confirmation-mail as well. You will then get a second e-mail when the order has been shipped. If your order requires multiple shipments, you will be receiving more e-mail confirmations about them. Please, make sure you saved these e-mails (invoices) for the record.
---
Shipping rates
Please note that the rates shown below are for the ground shipping via common carrier. These rates cover such services as residential delivery, delivery appointment, liftgate and pallet jack service. Prices can be changed without notice. We don't charge any additional fees for crating unlike many companies do.
Shipping rates from $80
Lead time starting from 14 business days
---
Shipping*
Once an order is processed, it is then shipped out via LTL (for large items) or carriers (for smaller items). LTL shipments are curbside delivery only. Ship times vary upon final destination, however the average is 2-4 business days for the East Coast and 5-7 business days for the West Coast. Dealers are also more than welcome to use their own freight company if needed. Please contact DoorDesignLab directly for all orders outside of the continental United States.
---
Will call service
The buyer may pick up the order by their own means. In order to do that, you need to call us prior to your arrival to the warehouse and schedule a pick-up.
---
learn More
Get a Quote
If you are interested in receiving a quote, please fill out the form below and click on the "Request a Quote" button.