06/22/2021
Posted By Siarhey Kanushok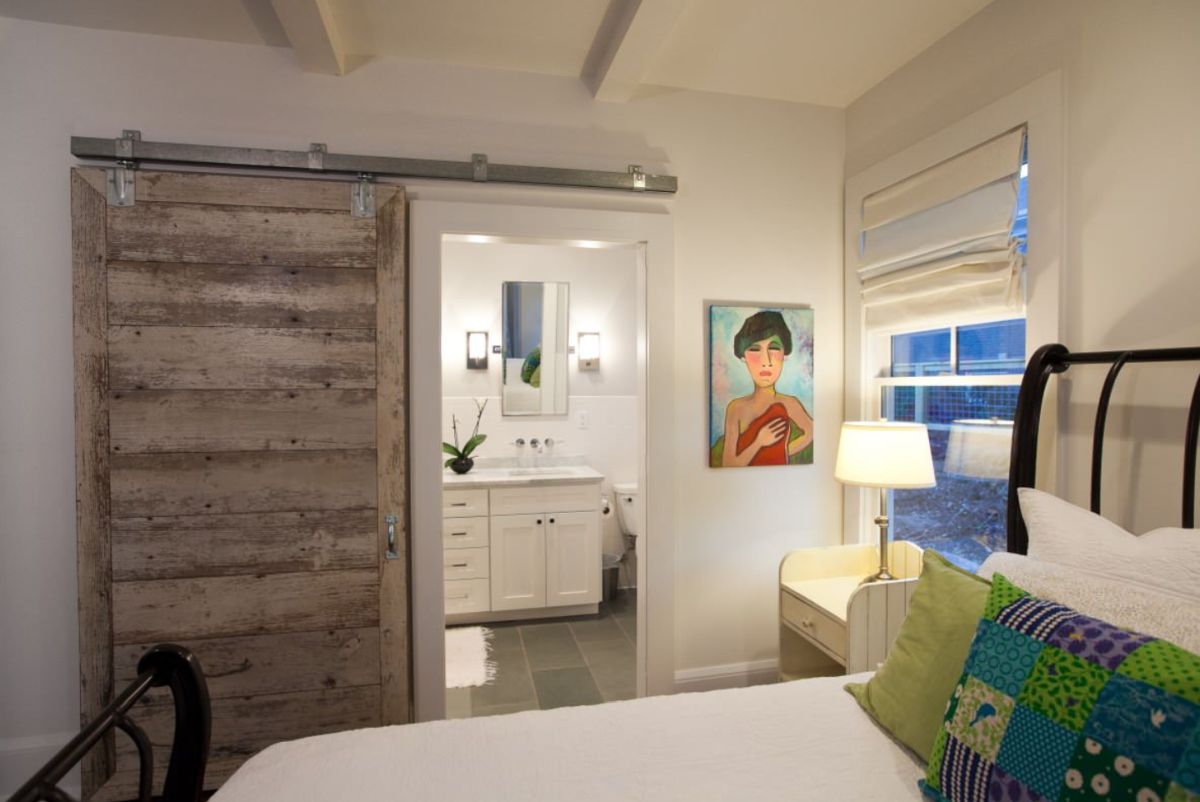 Contents
The people of the 20th century will most probably reject and even laugh at the idea of using sliding barn doors in bedrooms. And there's absolutely no doubt some people will make fun of you and stop hanging out with you as well. After all, a barn door should be attached to a barn and not a bedroom. But the reality is that homeowners have fallen in love with the idea of using sliding barn doors in bedrooms and no one can deny it.
The trend of using barn door in bedroom has already taken the interior design world by storm because of their warmth, rustic simplicity, and charm that can be too subtle or strong (depending on the way you design the interior of your home). So, homeowners today have happily embraced the idea of using barn door in master bedroom as they want to pay homage to their simpler past.
Impressive Entrance
The idea behind using a sliding barn door in bedroom was never all about looks. As compared to a regular door, the functionality and the rustic simplicity of a sliding barn door entice those homeowners who seek a door style that is more stripped-down than flashy.
The swinging motion of most doors makes them take up extra space, but a sliding barn door simply cuts down that wastage of space. If you have a small bedroom, you cannot afford to have the swinging motion of a standard door. You want a door that takes as little space as possible. This is where a sliding barn door enters in with a board that says, "Hey there, look no further. I am the perfect solution here."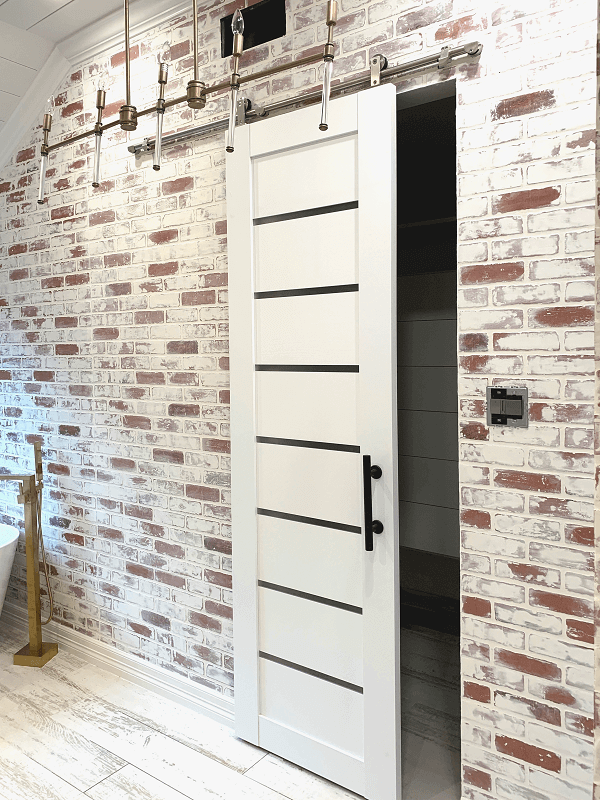 Adds Colors and Contrast
Are you worried that your bedroom looks a bit dull and boring? But what if we tell you that there's an easier way to add some visual and textual beauty to your bedroom regardless of its style and theme. You can elevate the ambiance of the bedroom by introducing a unique pattern of a barn door to add a different color and contrast to your room's aesthetics.
When it comes to choosing a barn door bedroom door, you can go with white, off-white, or the one with faded white features. It is because the white color complements almost every color scheme and looks exceptionally good at a darker wall.
If you don't like white color, you can go with a black barn door that can help you make a stronger statement against a white wall. However, a black barn door is usually recommended for a room with delicate features. Moreover, there are other colors such as red, or you can even choose to go with the natural color of the wood.
Barn Door in Master Bedroom
Usually, contemporary homes can be super successful when it comes to integrating sliding barn doors in their décor. What makes sliding barn doors perfect for master bedrooms is that they don't disrupt the character and décor of the room.
You can use a barn door to save space at the entrance of the master bedroom, but another way to use a sliding barn door in a bedroom is to conceal the closet with it. If you have a walk-in closet, you can use a large barn door to ensure there is minimum wastage of space.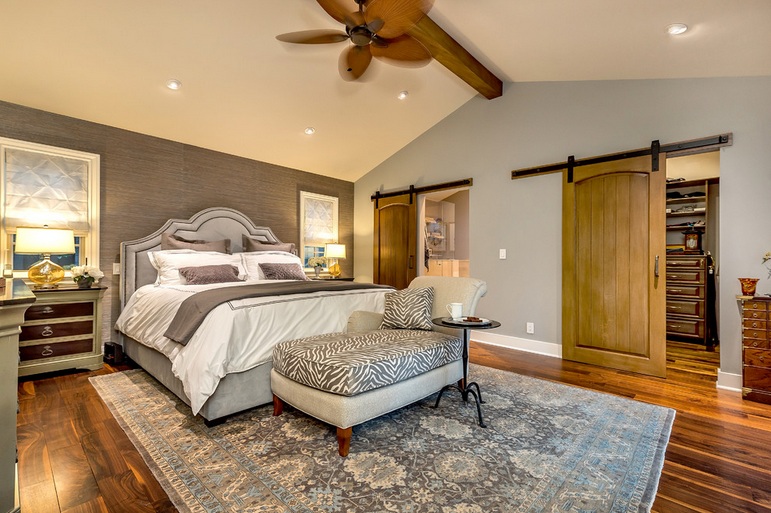 More Than Just Rustic
Remember the myth that if you drop a penny from the empire state building, then it would accelerate enough and reach a terminal velocity that can kill a person on the sidewalk? Science debunked that theory. Why on earth are we telling you about a myth in an article on sliding barn doors in bedrooms?
Well, there's a popular misconception that barn doors are only best for bedrooms that have a farmhouse or rustic flair. It's an absurd perception because these doors look way more attractive when they are being used in contemporary bedrooms. Even if you have a minimalistic modern bedroom, you can still benefit from these doors.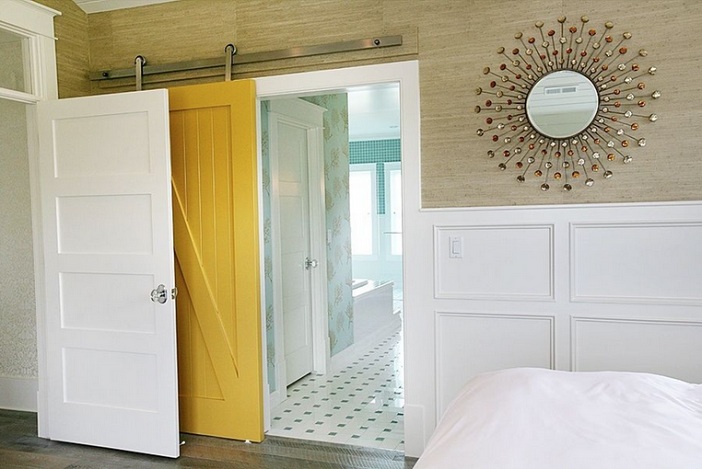 Barn Doors To Separate Bedroom and Bathroom
Trust us when we tell you that using a barn door as a transition between your master bedroom and the bathroom is a cool idea. By using a barn door to separate a bedroom from its bathroom, you can give a new vibe to your master bedroom with a rustic casualness.
There are many cool ways to separate a bedroom from its bathroom. As every room has its own style and décor, it is best to use a barn door that helps in establishing a connection between it and the rest of the décor.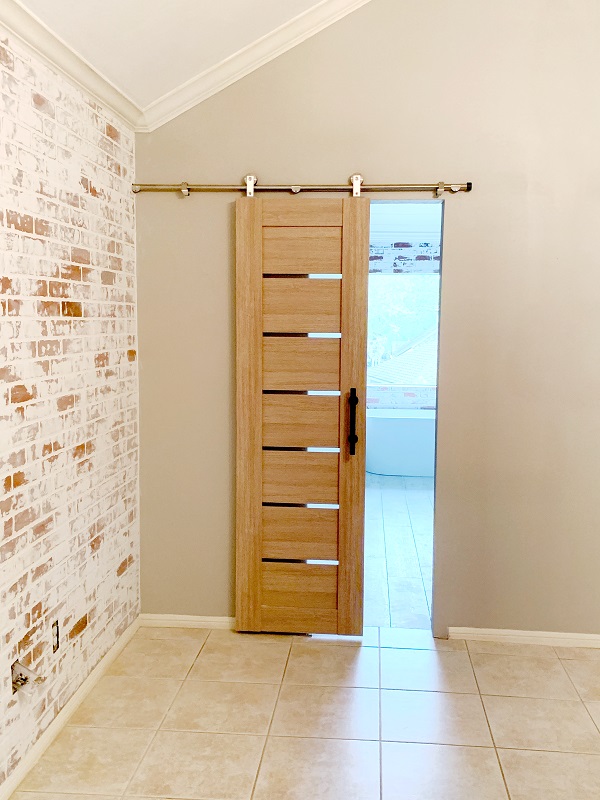 Single Barn Door in Bedroom
Single barn doors offer space-saving and functionality while adding beauty to the bedroom. A single barn door, especially a rustic one, adds charm and character to the bedroom. You can go with a deep blue barn door for your bedroom as it exquisitely adds a sense of privacy. Or you can add a cozy vibe to a bedroom with a natural oak barn door. It is exciting because there are so many good options.
Double Barn Doors In Bedroom
You can add appeal and character to your bedroom with double barn doors. Their versatile functionality and space-saving design make them perfect for bedrooms. You can use them as traditional interior sliding doors. From choosing the material, layout, hardware to the color, you can easily customize them to fit your bedroom's design.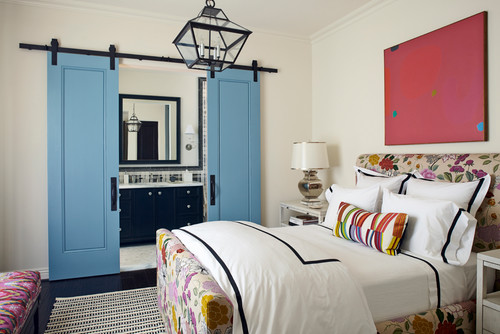 Experiment and Be Creative
Irrespective of the style and theme of your bedroom, you can go for painting the barn door in a color that makes you feel relaxed. You can go for dark blue, bright red, or vibrant yellow – let your imagination run wild.
---
Conclusions
Barn doors are versatile and that's what makes them perfect to be used for your master bedroom. You have creative freedom with sliding barn doors. We can assure you that it is going to be a different and refreshing experience for you.
If you have any other queries about sliding barn doors in bedroom, please contact us. Take care and have a great day.
---