08/20/2018
Posted By Julia Gajchuck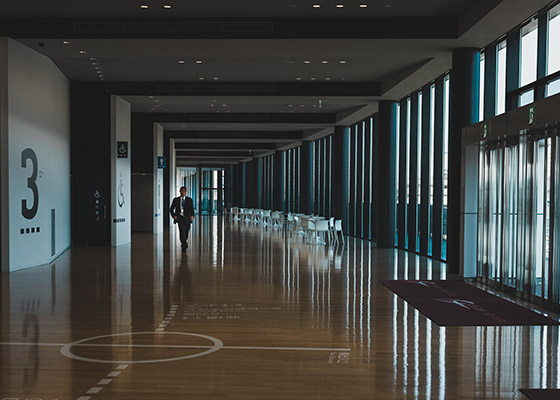 When it comes to choosing office doors, there are different door options to consider. First of all, you have to comprehend that the main entrance door for your office is different than the interior doors. The entrance door is bigger, fire regulated, harder to open unauthorized, and more robust as compared to the interior door which is best for reducing noise and easy accessibility for the employees.
Factors to Consider When Choosing Doors for Offices
Choosing office doors depends a lot on various factors such as:
Your budget
Size and panels
The style of doors
Materials
Easy accessibility
Durability.
Given the fact that there are many options to choose from, you have to make a decision which doors are right for you and your workplace.
So, let's have a look at different door types for commercial buildings and offices:
Glass Doors
There is no denying that glass doors look more magnificent than most other door types. However, they have more expensive locking mechanisms and they also require more maintenance: it is important to clean them every day. When it comes to choosing glass doors, you can choose from single glass doors and double glass doors with the main difference in them in the type of frames (full frame, half frame or no frame).
Glass doors are highly recommended to be used as office doors because they have a timeless classical look, gives you visuals across the office, and most important of all, they allow light to penetrate. Glass doors can also be colored to match branding or thickened to reduce noise.
Wood Doors
Even though wood doors are commonly used in residential places, they are used in business environments as well. These doors are by far the most common interior doors because they are best at providing a sense of warmth and they come in a variety of types and variable budgets as well. If you are looking for an economical choice, choose the wood doors for your office. They are not only cost-effective but also stylish as well.
Metal Doors
If you are looking for doors that have more practical purposes and provide an industrial look, metal doors are good at providing both of them. These doors are used for safety or security reasons. They are mostly preferred for storage of sensitive data because they are difficult to penetrate and have a high-level fire rating. Since these doors are hollow inside, you can easily modify them as per your requirements.
Sliding Doors
These are excellent space-saving options for small offices. These doors are considered among the best for minimizing noise and that's why they are most commonly used for conference rooms in offices. However, there is a downside of sliding doors as well; their tracks can impede operations after some time. So, when you are buying sliding doors, it is important to not compromise on quality.
---
There are other options for you to consider as well e.g. solid doors and swing doors. French doors can also be considered to add an upmarket and classical touch to your office. You can find various types of doors for offices at Door Design Lab at affordable rates. Check our collection and if you have any query, you can contact our customer support team.