06/29/2020
Posted By Admin Admin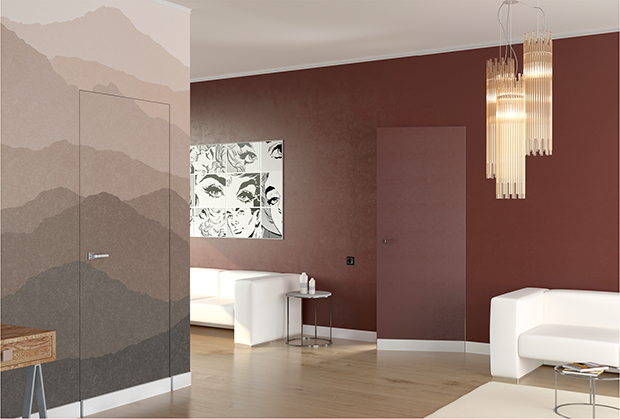 We all know that the primary purpose of a door is to provide security by controlling access to the doorway, right? And without a door, you'd have to enter a room by breaking through the wall. The point is that a door enables you to close the doorway for privacy, security, and environmental reasons, but it also provides a contemporary touch to space as well. That's why the world of interior doors has been evolving over the years. One such innovation is a modern flush door with a concealed frame.
At Door Design Lab, we take pride in being one of the most trusted names in the business. Our modern doors with concealed frames have become quite popular in the door market. Our primary focus is on providing concealed inswing door / concealed outswing door and hidden hinges that are easy to install and fit all standard sizes. Our modern concealed doors have a trimless and frameless look that perfectly complements a contemporary interior design of a space.
Perfect for Bold and Unique Interior Design
Concealed door frames have started to become popular among architects and interior designers who seek doors that provide optimal accessibility and give a contemporary touch to spaces by not compromising on design and quality. Moreover, the minimalist aesthetic of our concealed door frames has a modern touch backed by long-lasting and economical materials.
If you have limited surface space or a modern interior, our flush-to-wall doors can be perfect for you. There is also an increase in the use of modern flush doors with concealed frames for interior office design due to their refreshing change of style.
No Compromise on Structural Integrity
When it comes to the world of construction, it can be challenging to design a door frame that doesn't compromise aesthetics for structural integrity. With other types of doors, there is no compromise on the aesthetics but the problem is that structural integrity is often overlooked. However, concealed door frames offer optimal accessibility and functionality without neglecting structural integrity. You can easily use the frame for left or right, inswing or outswing.
Part of the reason why these modern flush doors with concealed frame have started to become popular is that they don't lack functionality and never jeopardize the aesthetics or the structure - something that is extremely crucial for the overall safety of the building.
Revolutionized Installation of Flush Doors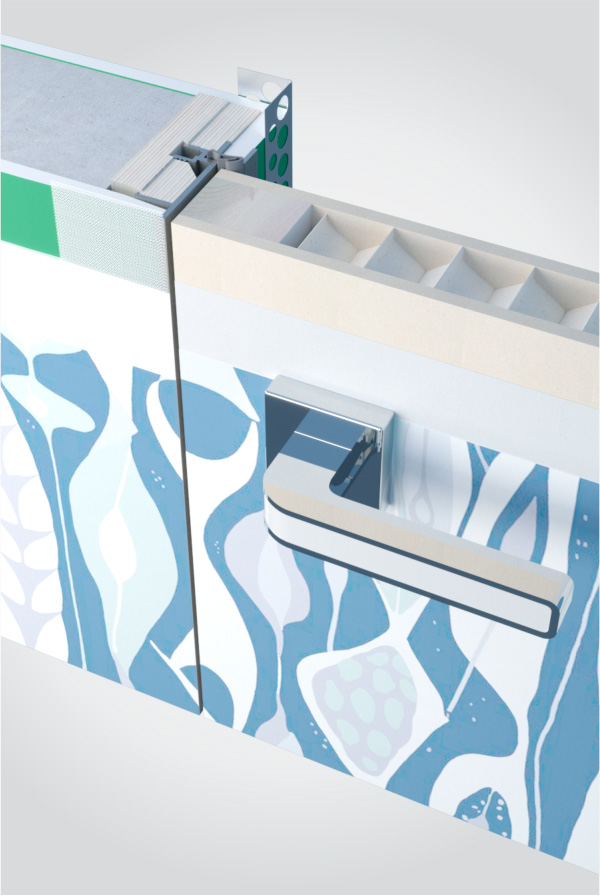 Concealed frame doors with hidden hinges have changed the way people used to install flush doors. Although it is a unique system, it has a quite simple design and that's why the installation process is easy as well. We can assure that the minimalist and practical design of our concealed door frames makes it easier to install flush doors without any complications whatsoever.
Once the hidden door system is installed, there is no visibility of doorframe on either side and only the door leaf remains visible. For instance, one of our invisible door frames is easy to install and can fit into the door openings 4-9/16″ — 5-1/8″ thick. What we can say with utmost confidence is that the visual experience of our hidden door system is as amazing as it sounds. It is because the flush door panel is totally flat. So, it'll look like an invisible door with no casing or trim. No wonder why this is becoming highly sought after modern design among architects and designers in the country. You can also check our frameless interior door designs as well.
A Vital Ingredient: Concealed Door Hinges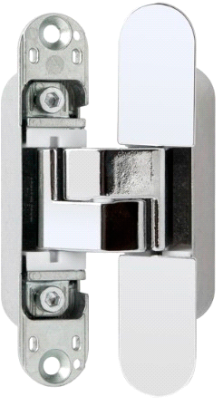 To achieve a perfect looking flush-with-the-wall look, there has to be absolutely no compromise on the quality of concealed door hinges. After all, ordinary ball bearing hinges are easily visible and quite bulky. That's why concealed door hinges play a pivotal role by perfectly aligning themselves in the door opening without being visible.
The hinges are essential for our concealed door frames because they do not stick out when you open the door and are completely invisible when you close it. Here, we focus on ensuring that the installation becomes as simple as possible. So, our concealed door frame and hidden hinges offer versatile design and easy installation.
How To Use Modern Flush Door with a Concealed Frame?
If you want to go for a modern flush door as your hidden/invisible door, you can use it as a bookshelf door or anywhere else in your home. The second option is to use a modern flush door panel with a concealed door frame. Even if you are a fan of mystery movies and novels, we will only recommend option one for at best just one room. But option number two is much better if you are looking for an elegant door solution for the interior design of your space.
The primary reason for recommending option two is that a modern flush door with concealed frame enables you to match all the doors in the house quite effortlessly. And you can make them almost completely hidden from sight by painting the frame, door panel, and the wall the same color – it is entirely your choice.
Door Design Lab for Modern Concealed Doors
If you are looking for a modern flush door with concealed frame and hidden hinges, you can find Invisible Door Frames at the most affordable and reliable place at Door Design Lab. Our concealed door frames offer the cleanest and flawless lines in interior architecture and provide the most minimalist door design be fitted entirely into the wall.
Our invisible door frame comes with perforated casings for flush setting and assembling. While buying it, you can choose between a complete Invisible Door Frame set, including the frame, a slab, and concealed hinges, or you can purchase only the frame. Overall, our prices are highly competitive, and the quality is the best.
Please contact us if you have any query related to our concealed door frames, frameless interior doors, or doors without frame, let us know and we will get back to you as soon as possible.