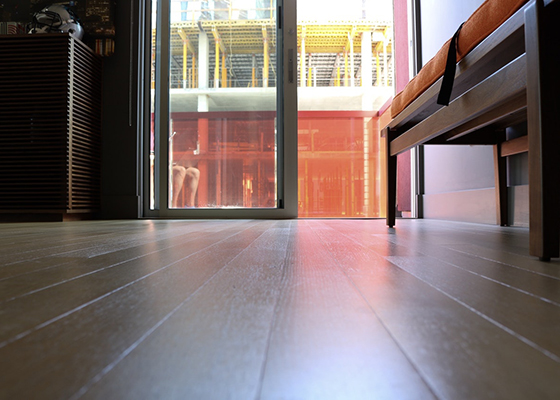 Conventional Doors
A conventional door is made of traditional wood and is used as a standard in most places. This is a regular door which is also known as a hinged door. These doors are the most common type and are used in homes and offices. One end of the door is mounted on the hinges which are attached to the hinge stile and the other end allows the door to swing shut or open. The bolt and handle are placed on the lock stile. Doors are hinged so that the arrangement of gyration is not at the same level as the door. This is to reduce the amount of space necessary on the side to which the door swings opens.
Flush Doors
A flush door is a smooth flat surfaced door which does not have any panels or designs on it. These doors are made of a single slab of good quality solid material. The solid core of the material is usually manufactured from coated timber or particle board. These are covered in medium density fibreboard (MDF), plywood and natural wood. The door has smooth surfaces on sides, front, and back. The inside of the flush door is hollow. The hollow portion is filled with infill material, for example, cardboard. The flush doors are completed with various colored paint, coatings or a laminated finish as the final touch.
Conventional Doors versus Flush Doors
Advantages of Conventional Doors
Conventional doors are easy to install;
their spare parts are easily available in the market;
they are quite effective to block out lighting;
while conventional doors are traditionally installed to swing inwards, you can also customize them to open outwards to save on space.
Disadvantages of Conventional Doors
Conventional doors are more expensive than flush doors;
these doors are much more prone to fire than flush doors;
when it comes to insulation, conventional doors are not highly recommended;
one of the disadvantages of conventional doors is that hinged doors are difficult for disabled people, for example, people in wheelchairs. Even though kick plates and large-sized pull handles are installed. This makes the doors easier to access but require strength to open it. A disabled person cannot easily use a conventional door.
Advantages of Flush Doors
They are sturdy doors and cannot be easily damaged due to their high-quality resistance material;
they are economical since the basic material cost is cheap;
flush doors are chemically treated and pressed tightly so that they are resistant to both water and heat;
the surface of the flush doors is scratch and stain resistant;
even termites cannot damage this type of door;
there is low-cost maintenance since these doors do not need to be replaced;
flush doors can easily be installed anywhere;
the smooth surface makes it easier to clean/
Disadvantages of Flush Doors
Flush doors are made according to factory size so you need to make sure the size is perfect according to your need;
also, the sturdy material makes it's quite heavy to carry;
If the top coating on the flush door is not done properly it will delaminate easily with moisture.
---
From the above comparison, it is fair to say that flush doors are a better option than conventional doors. With their low cost, damage resistant material, ease, and comfort, flush doors are now becoming a new trend.