12/19/2020
Posted By Sergey Konushok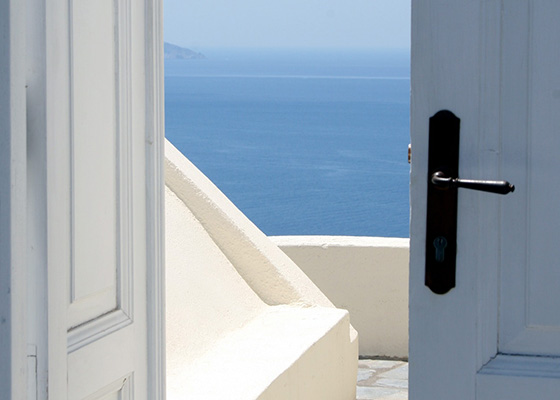 One of the most popularly used doors in today's modern era is definitely bi-fold doors. They are the best when it comes to adding value to a home by providing aesthetic and practical benefits. We really love bi-fold doors because they add a touch of style and luxury without compromising convenience and functionality.
Before we look at the benefits of bi-fold doors, let us discuss a little bit about them.
What Is A Bi-Fold Door?
A bi-fold door is a type of folding or sliding door, made from a series of panels. It was previously termed as 'concertina' door after getting inspiration from the musical instrument of the same name. As the name implies, a bi-fold door can fold in and out of space.
The best part about these doors is that you can install them both at external and internal locations. Be it a laundry room, pantry, wardrobe or even a commercial building; you can install the door anywhere.
How Does A Bi-Fold Door Work?
These doors work on a concertina principle, which means they fold back into a compact storage area. Both interior and exterior bi-fold doors operate on a built-in tracking system. The door slides over the laid out track smoothly and quietly.
The panels of these doors are hinged together, making it easier to slide on runners in the floor. Thanks to the numerous benefits of bi-fold doors, they are used both commercially and domestically.
How To Choose A High-Quality Bi-Fold Door?
Here are a few factors to consider that will help you in identifying high-quality bi-fold doors:
High-quality bi-fold doors are made from aluminum, which provides a smooth finish.
There has to be a powder-coating finish that makes the doors hard-wearing
The doors have the ability to withstand harsh weather and meet current industry standards
There should be slim sightlines without compromising strength and security
The handles should be ergonomic and available in different styles
There has to be a guarantee of at least 10-year for the entire door system
Where To Use Interior Bi-Folding Doors?
Bi-fold doors are most commonly used as interior and closet doors. The door slides open by folding back its panels and pushing them partially or fully against the wall. Even though they are called bi-fold, these doors have more than two panels. The panels go up to seven in number.
Bi-fold doors were traditionally used to connect the rooms of the place to a shared outdoor area, which could be the garden or the main entrance. These doors are also used in the same room to divide the space or can be used between two rooms.
You can use bi-fold doors in a small home as well because they take very less space. As they fold back instead of opening into a room, they are true space-savers. That is why we often recommend it to people living in apartments and flats. Bi-fold doors are made out of wood, glass, aluminum and vinyl material. These doors are quite ancient as excavations indicate that even Romans used bi-fold doors.
Benefits of Bi-Folding Doors
Unlike other doors such as French doors or patio doors, bi-fold doors are much slimmer
Due to their width, they offer maximum space and visibility of the room. A large room can be made into two medium-sized rooms by simply using a bi-fold door. The room space is further enhanced which could have been occupied by the conventional door
Given the fact that bi-fold doors slide back completely into the wall, they are best for compact areas
Bi-fold doors allow a good amount of flow of natural light and air into space. Aluminum bi-fold doors work best
You can look forward to the summer season by expecting cheaper bills. By using bi-fold doors, the natural light and air flow increases which in turn reduces the use of electricity
The best thing about this type of door is that its maintenance is cheap. The only care it requires is regular cleaning to prevent dust from gathering up. These doors do not need to be regularly oiled or replaced due to corrosion
Bi-fold doors have a good safety measure. Their locking system secures the place from any break-in or theft. The sliding track of the door has many points that can be locked. This offers great functionality and security These doors are eco-friendly
With a wide variety of bi-fold doors, you have a large range of colors to choose from
These doors are known to provide value to a property
Lastly, you can enjoy the view of the garden by installing a glass bi-fold door. This gives you the ease and satisfaction of viewing the outdoors from the comfort of being inside
How To Install Internal Bi-Fold Doors?
Once you select the right bi-fold door size, installing it requires some DIY experience. Therefore, only dive into it if you are confident in your DIY knowledge and experience.
Although DIY enthusiasts can install an internal bi-fold door themselves, we recommend hiring an expert for the job due to the complex requirements of installing interior bi-fold doors. If you still want to give it a shot, we urge you to read this informative piece on how to install internal bi-fold doors.
Are Bi-Fold Doors Secure?
People installing external or internal bi-fold doors often have a query about how secure these doors can be, and we always tell them that bi-fold doors can be very secure. These doors come with a multi-point locking system and even a hidden, inline tracking system, making them safe by design. Therefore, you do not need to panic.
---
The Bottom Line
Bi-fold doors are one of the most sought-after doors in the commercial and domestic market. They offer a spectacular view of the outside world and create a perfect illusion of ingress of natural light and extra space. If you have never used bi-fold doors before, it is never too late. You should definitely try using bi-fold doors; it will be worth your investment.