05/27/2021
Posted By Siarhey Kanushok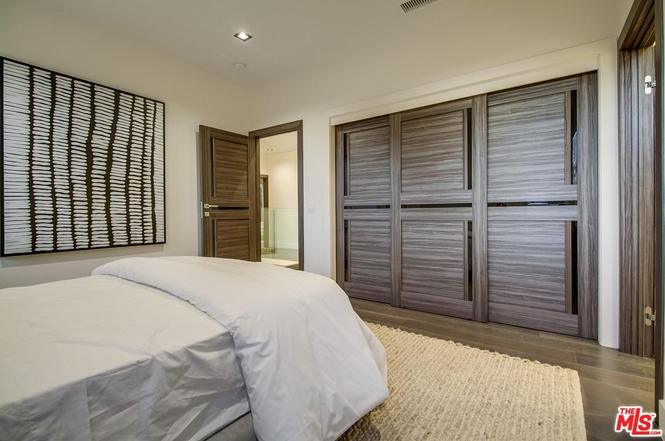 Closet Door Types and Decoration Ideas
Contents
Are you looking for some closet door solutions? You have come to the right place.
As builders, remodelers, and architects approach interior doors with a focus on reducing the expenses and making installation easy, they tend to neglect the importance of closet doors. Even when it comes to homeowners, not much thought goes into choosing the right closet doors.
Plain closet doors were trendy like ever, but times have changed and people are moving to more attractive-looking closet doors.
Every homeowner wants to conserve some space and make the room look cozy and more pleasing to the eye. The right closet door needs to improve the user experience while also ensure that the feel of the room doesn't change a lot.
Old-type closet doors take space and depict an unattractive image of the room if not untidy.
Top 6 closet door types
So, here are some of the best types of doors for your closet:
Bifold closet doors
Bifold closet doors are made of two slabs that are fitted to runners and fold back on themselves. When opened the slabs slide and fold at the same time.
These doors are very popular among homeowners and are mostly used in bedroom closets.
A bifold door can be customized quite easily according to your space.
Upsides: Bifold closet doors don't take as much space as regular hinged doors.
Downsides: You'll find it a bit tough to reach the far sides of the closet.
Nevertheless, a bifold door is a really good choice for a bedroom closet.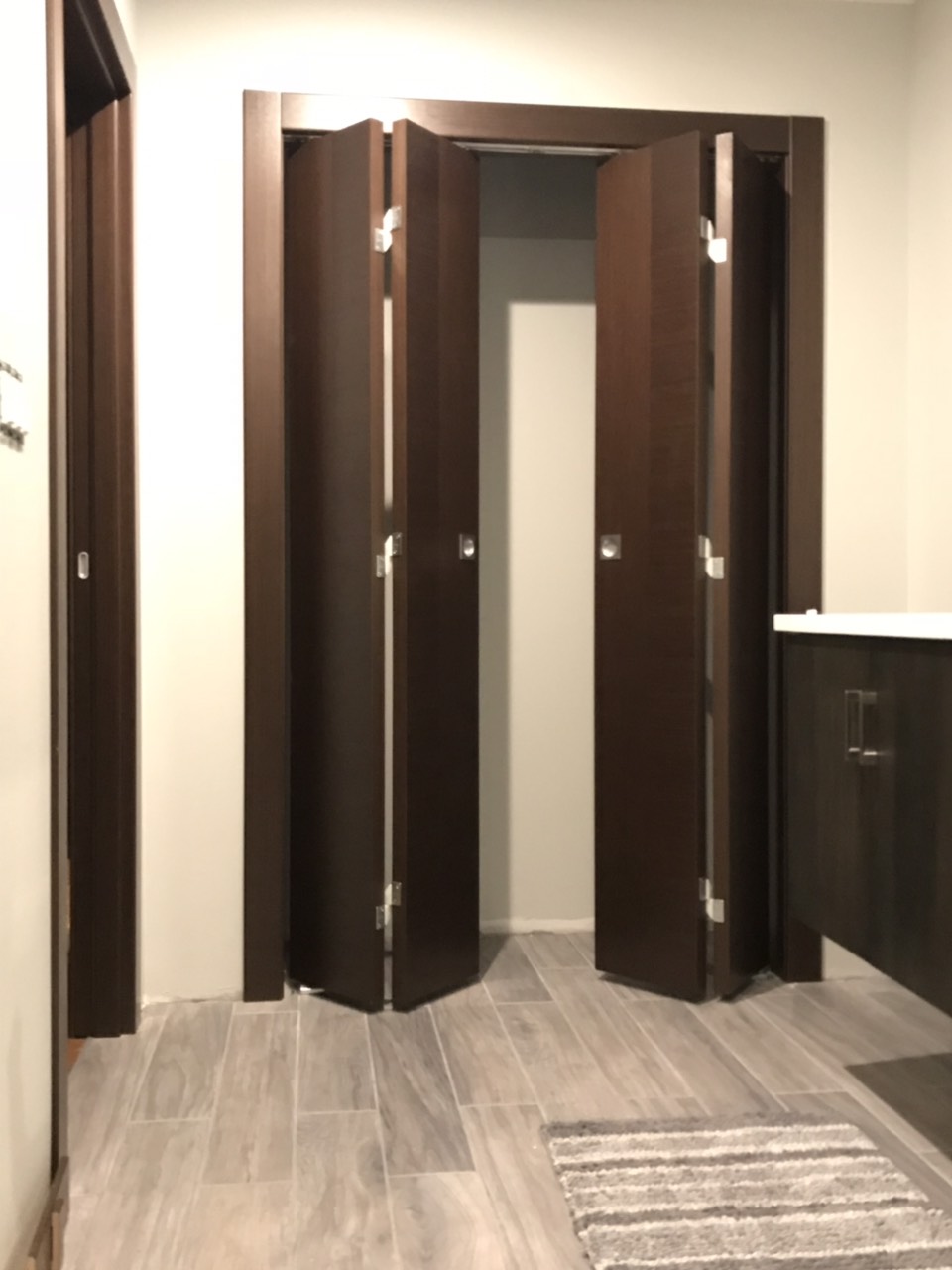 Bypass closet doors
As the name suggests, the door frame has a track that enables the slabs to slide past one another. When open, one slide is in front of the other door.
Upsides: Bypass closet doors give you full access to all the space in your closet.
Downsides: The two possible shortcomings of these doors are that they only give you access to half of your closet at a time and they can get stuck on the tracks if you don't clean them from time to time.
A tip: Your new bypass closet doors might as well come with a mirror option.

Pocket closet doors
When open, these doors disappear into the adjacent wall. Many consider these doors ideal for a closet, as they give maximum access to all its corners.
Upsides: They are super easy to use, save a lot of space, and provide maximum access.
Downsides: They are less reliable, require regular cleaning, and lubricating with silicone spray.
Pivot closet doors
These closet doors are for those people who don't shy away from making a bold statement in a space.
A pivot door opens and closes by rotating on a spindle instead of hinges attached to the side of a door and door frame.
As they are installed at the top and bottom of the door, they give access to the entire closet opening.
Upsides: They are space-saving, with original and stylish looks, suitable for people with disabilities.
Downsides: You risk your fingers while opening and closing the door. Also, the slab can warp over time.
Louvered closet doors
A louvered door is a door with horizontal slats.
Upsides: These doors allow enough air and light to flow through the closet, which helps keep your clothes to fresh. Also, they give the impression of extra space in a room.
Downsides: They are more difficult to care for because they have more surfaces to clean.
Barn closet doors
Barn doors are extremely popular nowadays and it's only logical that the homeowners use them as closet doors as well. They are ultra-easy to use and they have this unique personality that makes them fit into almost any kind of décor. You can also go with modern barn doors as a closet door solution.
Upsides: Closet barn doors have strong visual appeal.
Downsides: A barn closet door may give the room a sometimes unwanted rustic appearance. Also, they block or cover walls when open, may come off the track, can be noisy to open or close.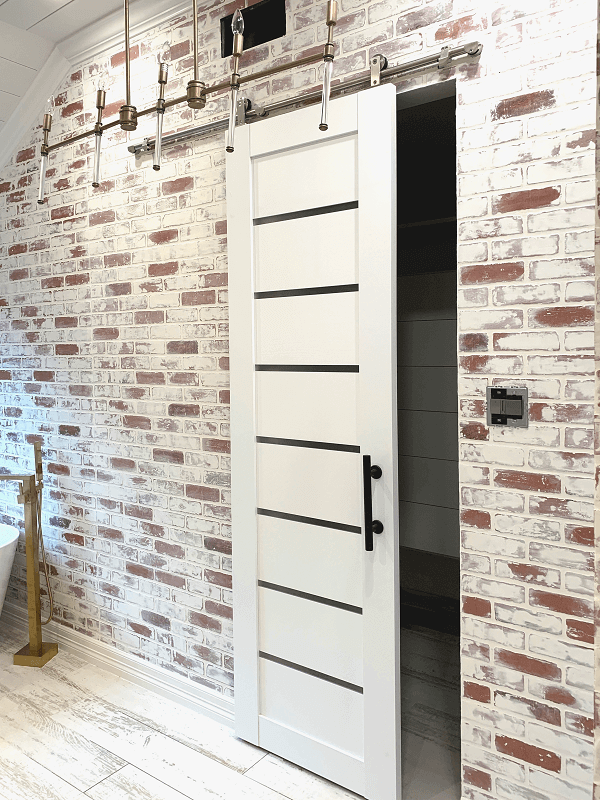 Closet doors decoration ideas
Mirrors
This is one of the most popular options out there.
Upsides: Mirrored closet doors are especially recommended to those homeowners who want to make their room look larger and more inviting. Downsides: Full-height mirrors are expensive and are easily breakable. Also, you will need a professional to attach the mirror to the leaf.
Here at DoorDesignLab, you can order your closet door to come with a mirror. Our online consultants will help you.
Slim mirrors
If you add slim mirrors to your bi-fold closet doors, you'll be pretty amazed to see what they bring to the party. The mirrors will add one more interesting visual element to your room.
Paint
If you are tired of looking at your plain old closet door and happen to be short on budget to replace it, there is always an option of painting it.
Rest assured your plain and ugly-looking closet doors will appear more interesting after you paint them. On top of all this, you can change paint every new season without bearing the expenses.
Curtains
Using curtains can become an option if you are short on budget or want to experiment with your room. They are cheap and do not take space like swing doors. Amazing-looking curtains add life to any room.
---
Conclusions
When it comes to choosing the right closet doors, consider their convenience and durability. First of all, you should know the size of the room and your budget (of course).
All in all, all of the above ideas will help you make the room more attractive, spacious, and lively. You can always choose the perfect one, just yours.
Have fun, best of luck!