09/16/2020
Posted By Sergey Konushok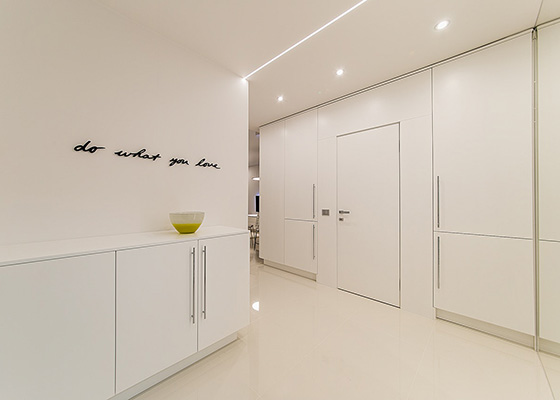 The COVID-19 pandemic has forced many businesses to introduce telecommuting (working from home) on a large scale. Now that experts are suggesting there are chances that working from home is the future, your next step is to set up your home office. And setting it up seems impractical without interior doors for home office.
You can click here to read more about how to set up a home office.
But even if you find a dedicated space and a comfortable chair, it would be incomplete without an ideal home office door. After all, it is going to be the most productive area in your home and that's why it needs to be super peaceful. It can be challenging to work from home when there are hyperactive kids around.
What To Consider When Choosing Interior Doors for Home Office
When it comes to choosing interior doors for home office, there are a lot of options available.
To ensure sound-proofing you can go with any Belldinni's pre-finished interior doors that have Smart Core filling. Another option that are popular for home offices are interior French doors.
What To Expect From a Home Office Door
People who decide to buy interior doors for home office look for two important things: first, an interior door that has a high STC (sound transmission class) rating, which means the amount of sound loss through the door, and second, an interior door that is aesthetically pleasing. After all, you'll be seeing a lot of it.
Although you can manage to work with a door that isn't too pleasing to the eye, there should be no compromise on soundproofing.
The good news is that we have Belldinni interior doors with Smart Core, a technologically advanced insulating core. The reason why solid core provides a high level of sound and thermal insulation is that it has high-density wood fiber mixed with polyurethane, conifers, paraffin emulsion, and harmless resin.
Materials for Home Office Doors
When choosing interior doors for home office, you have to ensure that the interior door provides privacy and soundproofing. This is where the materials used for office doors play a pivotal role.
Solid wood doors provide impressive soundproofing. On the other hand, solid core doors are also recommended as they have a high STC rating and cost less than solid wood doors.
If you like to work in a completely quiet space, it is best to consider a solid wood door because they can be exceptionally good at providing the highest level of privacy and soundproofing.
You can also consider investing in a Belldinni interior door that comes with Smart Core.
If you're more into a sturdy door that is eco and at the same time aesthetically pleasing, you can go with cherry wood or oak as it is durable and resistant against moisture damage. But the price of the doors if often out the affordable range.
However, if someone tries to sell you an interior door for home office with a hollow core for an unbelievably low price, don't make the mistake of buying it or you will regret the decision (trust us, many people have already fallen for it).
It is because the core of the doors barely provides any soundproofing or thermal insulation.
And if there's no soundproofing, then say good-bye to working in a peaceful home office space.
Visual Accessibility
You need an interior door for home office that not only enhances functionality but aesthetics as well. This is where interior glass doors are popular in home offices. After all, glass adds sophistication and a modern flair to any home décor.
If you're into modern minimalist design because you created your home office in your living room or master bedroom, you need to have a door that should offer some light.
You can consider interior French doors for home office, glazed doors with frosted glass or a contemporary glass door design to not only soundproof your office space but also make the area feel more open and light-filled.
Take an example of our Saana 202 Vetro Anthracite Belldinni Modern Interior Door that comes with frosted glass for letting in the natural light while also ensuring that there's no privacy concern.
Best Styles for Home Offices
One of the most commonly used interior doors for home office are plain flush doors. They are affordable, nice looking and, in our case, have the Smart core, thus helping with sound insulating.
But if you're interested in having an interior door that adds a modern flair, then it would best to go with a French door with transparent glass. It is because the glass makes the home office feel more spacious and lighted.
If you like to work in a private setting, consider a French door with frosted glass.
For people that have limited space, pocket doors can be a good option.
Your other options include a double sliding office door if you're looking for a grand home office entrance. A lot of people with ample office space go with this home office door configuration. To install a sliding door, you need a special hardware set. If you decide to go this way, our online-operator will help you to choose the best appropriate variety.
In case you feel that a sliding door doesn't provide solid insulation and soundproofing and a glass door invades your privacy, you can always go with a traditional hinged door. Even if you go with a traditional hinged door, it doesn't mean that you have limited choices.
Finishes
Someone who is working at home and also resides there. The most fa
As there is a need for a protective coating on all unfinished doors before you install them, you need to know about interior door finishes.
Take an example of Polypropylene Finish in our interior doors. It doesn't sun fade and has pleasing appearance.
Some doors are painted with polyurethane enamel, which is very durable, also doesn't fade and is scratch-resistant.
There is a veneer for transparent finish and oil-based paints for wood.
---
The Bottom Line
As you know that working from home is going to stay even after the current pandemic is over, it is high time to start setting up your home office. Start with an interior door that meets your requirements. Make sure not to choose a hollow core door as all other door types can be used for home offices.
If you have any queries related to choosing the best interior door for your home office, please contact us. Stay safe and take care.