03/03/2023
Posted By Siarhei Kanyushok
As barn doors are known for adding a new appeal to any place, there is no denying that these doors have been successfully capturing homeowners' attention for the past few years. What makes barn doors so great is that they can go seamlessly with almost any style while effortlessly adding character to your home.
Interior barn doors have already become a trend in the interior design world after making a somewhat silent start a few years back. As these doors bring a dose of charm and rustic simplicity, they elevate the place's decor and ambiance.
Although these functional and aesthetically pleasing to the eye barn doors are amazing, some homeowners have one particular concern related to these wonderful doors: "how can I make a barn door more private?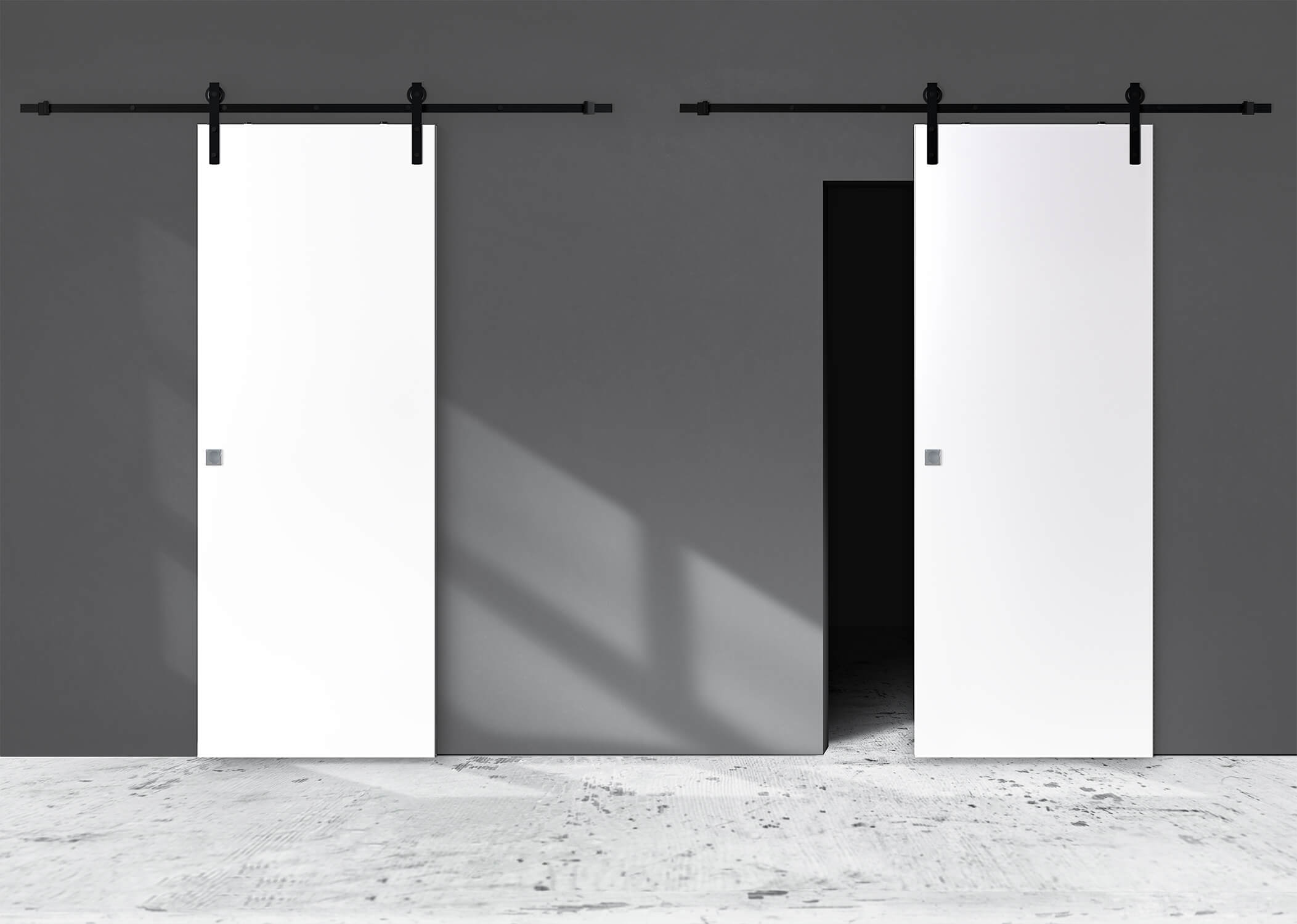 Achieving More Privacy With A Barn Door
You will say goodbye to the idea of using a run-of-the-mill bathroom door with hinges once you decide to go with a sliding barn door. Your concern related to privacy is justified because these doors do not come with hardware to lock them. However, there is no need to worry now because you can find a variety of locks for your sliding barn door and the best part is that these locks do not compromise privacy for style.
Here are some locks you can use to make your barn door more private:
Teardrop Lock: This type of door lock is mostly preferred to lock the bathroom from inside. It is recommended because it does not compromise aesthetics and it is fully functional and safe. If you are concerned about privacy, this is the lock you want as it firmly mounts to a door jamb and keeps the door closed.
Entry Lock: These locks are for those rooms that are accessed the most by people in the house. This door lock comes in left-handed and right-handed options and you can choose it depending on which way the door slides.
Sliding Barn Door Latch: This type of lock is recommended for double barn doors. Although single-hung barn doors are not meant to be locked, you have nothing to worry about as you can easily install a hook and eye closure to make them more private. All you have to do is attach the loop portion of the lock to the wall and the hook to the side of your single-hung barn door. The same process goes with the lock for double barn doors as well.
Bridge The Gap Between Barn Doors
If you have used one of the locks mentioned above and yet there is still a little gap between the door and the wall or the double doors, then you could try to tack a rubber stick on one door. Using weather stripping can work because the flexible rubber comes in various sizes and colors and it will not affect the visual appeal of the door.
Soundproof Your Barn Door
As we know that barn doors are not good at soundproofing, but there is nothing to worry. There are effective ways to make your barn door soundproof. However, these ways are only useful if your barn door is made from solid wood and not a hollow core.
Weather-stripping
You can close the gaps in your barn door without cutting a piece of baseboard. It is best if the weather-strip is the same color as the barn door. Apply it to bridge the gap between the wall and the barn door; it will reduce some noise. Now, apply it to the bottom of the door as well. Make sure the weather-strip needs to easily glide on the floor, which makes it easiest to close the gaps.
Using A Barn Door For a Bathroom
As barn doors have become popular, many people want to use them for their master bathroom. If you want to make your bathroom look a bit more interesting in an inexpensive way, adding a barn door is not a bad option.
As far as privacy goes, you have to understand that it will not be as private as a regular door. The spacers in the barn door rail will automatically cause a gap, which compromises privacy. You could go with molding around the door to cover most of the gap, but you should know that it still would not be as good as a traditional door.
Another query is that can a barn door mask smells in the bathroom. Well, people who have installed barn doors for their bathrooms have no complaints with it. However, it is not soundproof.
Use a Door Sweep
By adding a door sweep, you can block some sound in an inexpensive and effective way. We recommend going with a brush-style door sweeps. It is because the brush-style door sweep makes contact with the floor without sticking on the ground. Moreover, they tightly seal the gap as well.
Install Acoustic Foam On The Door
Acoustic foam panels are usually used in drum rooms or music rooms. They can work really well on the barn doors as well. They will do a great job of softening barn echo sounds and absorbing the sound.
---
The Bottom Line
If nothing works for you, there is always an option to hang a washable curtain on the barn door to cover the gaps and achieve more privacy. As barn doors add a more fun visual element to the place, we recommend using them in the more public areas of your home instead of the bedrooms or bathrooms. If you still want to use them in your bedrooms and bathrooms, try to soundproof them by following the aforementioned methods.
We hope now you can make your barn door more private. Let us know if you have any other queries related to how to make a barn door more private.
---