11/11/2020
Posted By Sergey Konushok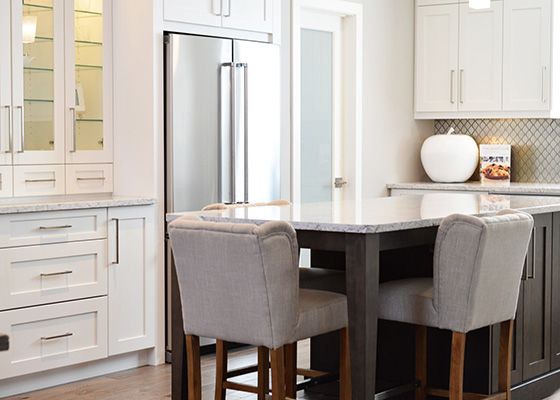 When it comes to pre-hung doors, they are in demand due to their various built-in properties, quality, and engineered eco-friendly materials. These doors are known to provide utmost convenience and high resistance against climatic changes and termites. With pre-hung doors, you can make your commercial or residential place look elegant and modern at the same time.
If you are considering buying a new door, there are two popular options: a pre-hung door or a slab door. So, let's look at both these types of doors.
What Is A Slab Door?
A slab door is a rectangular slab of wood without a frame or other hardware. It means that there has to be an existing door frame to install a slab door. These doors are commonly used as a custom door design when building a brand new home or remodeling a house.
A variety of materials can be used to make slab doors such as wood, steel, or fiberglass. Slab doors generally cost less than pre-hung doors.
Slab Doors: Pros and Cons
What we like about slab doors is that they are less expensive than pre-hung doors. They also offer more design flexibility than pre-hung doors.
However, installing a slab door requires more time and even extensive carpentry work. With slab doors, there can be an issue with creating a smooth swing and tight fit.
What Is A Pre-Hung Door?
It is a door that has already been mounted on the door frame. The door slab, hinges, and the external frame are already in the unit and only need proper fitting. Only the doorknob and strike plate are not included in a pre-hung door. However, there are pre-drilled holes for the doorknob and bolt. One needs to know a few things about the pre-hung door such as door measurements, size, material, style, color, left or right-hand swing, bore and the width of the jambs.
Pre-Hung Doors: Pros and Cons
Pre-hung doors are perfect for investing if you want to make new construction work fast and easy. They are a right choice if you do not have an existing exterior door frame. To help you make a better decision, here is what we like and don't like about pre-hung doors:
Pros
As hinges of a pre-hung door are already attached to the frame, installing it can save time and effort. It also means you do not have to build a frame from scratch. There are also pre-drilled holes for the doorknob and strike plate.
Cons
Although there are a couple of drawbacks of pre-hung doors, they should not really change your mind because of the value these doors provide. These units are heavy and it can be challenging to transport and move them. In case you do not measure the door correctly, you might end up with a unit that does not fit properly.
Is It Easier To Install A Pre-Hung Door?
Installing a pre-hung door can be a bit challenging if it is your first time. Although it seems like installing a pre-hung door is simple, the entire process can be somewhat tricky. However, it does not mean that DIY enthusiasts cannot install a pre-hung door.
Make sure to pay close attention to aligning the frame correctly and follow the instructions provided by professionals. We urge you to read this informative piece on how to install a pre-hung door.
When To Get A Pre-Hung Door
We know that a pre-hung door can cost you more money than a slab door, so consider the cost factor before making a decision. However, keep in mind that a pre-hung door is ideal if you do not have a door frame. It is also a good choice if you are planning on brand new construction or extensive remodeling of your house.
Benefits of Pre-Hung Doors
The first and most obvious benefit would be timesaving since the installation process is simple. There is no need to manually install the door through the door jamb and then check whether it swings properly or not – it is a time-consuming process which can be saved by using a pre-hung door.
If your door frame is damaged and needs to be replaced or repaired, installing this door is more convenient and cost-efficient.
Since these doors are pre-installed at the factory, their elegance is not damaged while they are being set up. Most doors do get damaged while being fixed in the jamb but in the case of a pre-hung door this won't happen.
Thanks to the quality materials used in making pre-hung doors, they do not absorb moisture, swell up, or show early wear and tear signs. These doors are installed very few millimeters away from the wall. This gives the door enough space to let oxygen pass through and the wooden material does not rot.
These doors have a layer of Polyurethane material which protects the pre-hung door from termites.
With environment-saving movements nowadays, door manufacturers have also started making pre-hung doors by using the eco-friendly material. This helps the buyer play their part in contributing to saving the environment.
You can save up on bills as pre-hung doors have great-inbuilt insulation. The core of these doors is thermal. This makes them better than the average core of wooden doors.
With pre-hung doors, you have plenty of options to choose from. It comes in various designs, styles and is made of a variety of materials. You can also choose from multiple colors to match the color scheme of the interior or exterior of your house.
Pre-hung doors are made of excellent quality material, which makes them weather-resistant. These doors will not wear and tear. They are able to withstand extreme environmental changes.
A Pre-Hung Door vs. Slab Door: Which One To Choose?
As a pre-hung door is all ready for hanging, the other is in raw shape when it comes to installation. A pre-hung door comes with the attached frame and counterparts, while the other one is a cheaper option as you will not be paying for the hardware and frame.
If the cost factor does not affect you much, choosing the door depends on what you need. For instance, a pre-hung door is a much better option if you're constructing a new room, doorway or remodeling the house. There are many options with slab doors as they differ in paneling, hollowness, weight, and material.
Overall, your decision on choosing between a pre-hung door and a slab door should depend on factors such as budget, materials, requirement, and convenience.